I may earn commission if you use my affilaite links to purchase products: More details.
Building a stunning page is the ultimate goal of every blogger and marketer after coming up with excellent content because it is the aesthetics of the page that make the visitor spend more time.
Though it is up to you and how far you want to go with your page creation efforts, there are a lot of very useful and free page builders available that can provide you with excellent results if you are a little tight on budget.
So with that said, let's have a look at some of the best free page builders:

7 Best Free Page Builder WordPress Plugins
The best free page builder with millions of worldwide users, Elementor provides the user with a plethora of design elements. And what makes it an attraction to every webmaster is its compatibility with every theme. The plugin comes with more than 80 design elements, and it also works with Gutenberg.
Furthermore, Elementor allows its users to use different 3rd party add-ons while building the page with it. Another incredible thing about Elementor is that it is designed to be SEO-friendly, so you don't have to worry about any possible SEO problems. If you don't find Elemenetor useful, try some of its alternatives.
Some of the features of this incredible page builder are:
It contains 300+ designer-made templates
Comes with 90+ widgets
You can build visually appealing popups
Edit every part of your website using its theme builder
Build a mobile responsive website
This one is free, and honestly, it is a delight to use the Site Origin page builder for a multitude of reasons. The primary reason is that it comes with incredible features that you cannot expect from a free page builder. Furthermore, you can use its drag-and-drop page builder to edit the website on the backend even if the site is live.
Also, the Site Origin page builder works with about any WordPress theme and is also mobile-ready for the creation of highly responsive websites. The tool also allows you to go back and forth with your changes through its history browser. To know more, read some of its popular features below:
Available in 17 different languages
It is completely free; no premium version is available
You can edit in real-time
Simple and very easy-to-use drag-and-drop functionality
You can change your themes whenever you want as it works with almost every theme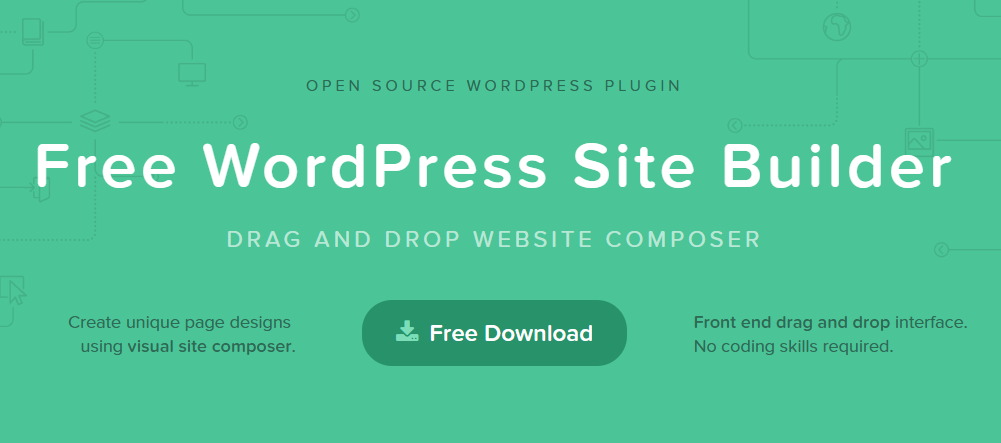 This one is not only free but also an open-source page builder that is designed to provide its users with the best value. The tool is suitable for every type of theme, and its responsive layout and mobile support make it a premium page builder that can be used for free.
The Live Composer page builder provides its users with a wide range of drag-and-drop tools that can be used in any way you want. You are free to drop the modules anywhere you want on the page allowing you to create stunning and highly impressive layouts. Have a look at some of its awesome features below:
Fully compatible with WordPress plugins like contact form builders or Yoast SEO
It doesn't leave shortcodes behind when deactivated
Highly responsive page builder
Works with any theme and they have their marketplace of themes as well
Create beautiful pages in real-time

If you are looking to build a highly responsive blog page, then Blog Designer is what you need. It allows its users to create aesthetically pleasing blog pages using a variety of six templates and is very easy to use and set up.
The admin panel of the tool is also incredibly user-friendly allowing you to change the settings quickly and without any hassle. There are a lot of features that this amazing free page builder offers have a look at some of them below:
It is fully compatible with any theme
Compatible with several popular page builders
Comes with six unique templates
Show/hide tags, categories, and author
Fully responsive
Has cross browsers support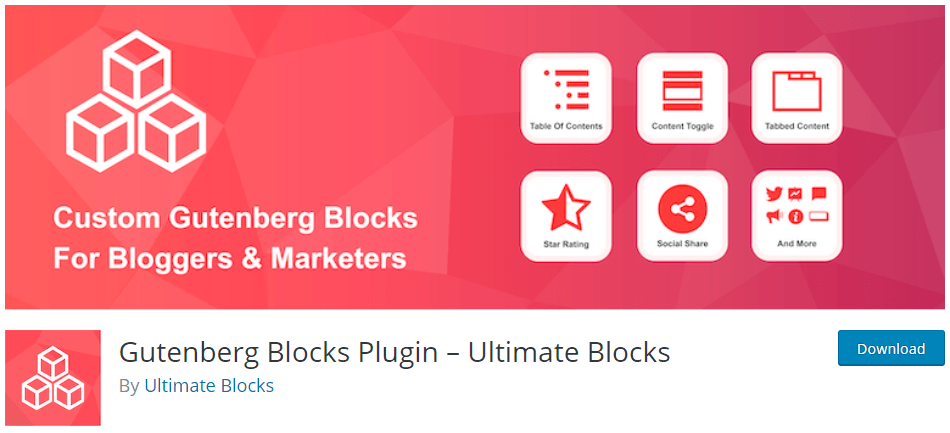 This one is a Gutenberg block that lets you add several blocks to create an insanely beautiful page that speaks elegance and professionalism. The best part about using it is that it is specially made for marketers and bloggers so you will be equipped with tools that are made just for you.
Furthermore, it comes with 16 blocks that can add different modules to your pages such as table of contents, schema markup, progress bar, notification box, and more. Have a look at some of its features below:
Different blocks specially made for marketers such as review, social share, CTA, and more
Blocks are also included while keeping bloggers in mind such as a table of contents, feature box, and more
More blocks are being added with time
It can alone perform tasks of multiple plugins through its blocks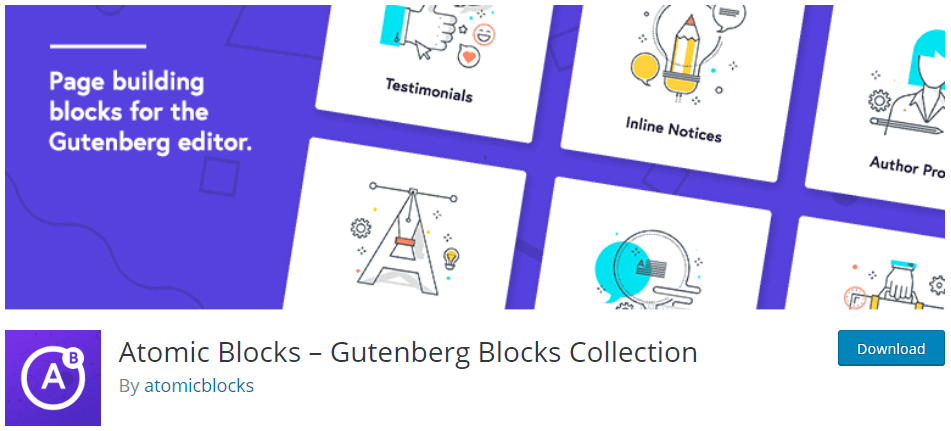 Another collection of blocks from Gutenberg that can help you create an incredibly attractive page with everything that you need to attract and retain your visitors and customers. All of its blocks are customizable which means you can change them according to your preference and the style of your website.
Also, because blocks eliminate the need for many plugins like a table of contents or reviews section, you will save a lot of time that would've been spent on installing different plugins. Some of the features of this one are:
They publish very helpful articles to educate their users
Blocks are highly customizable
There are currently 14 blocks that you can use
The blocks eliminate the need for installing different plugins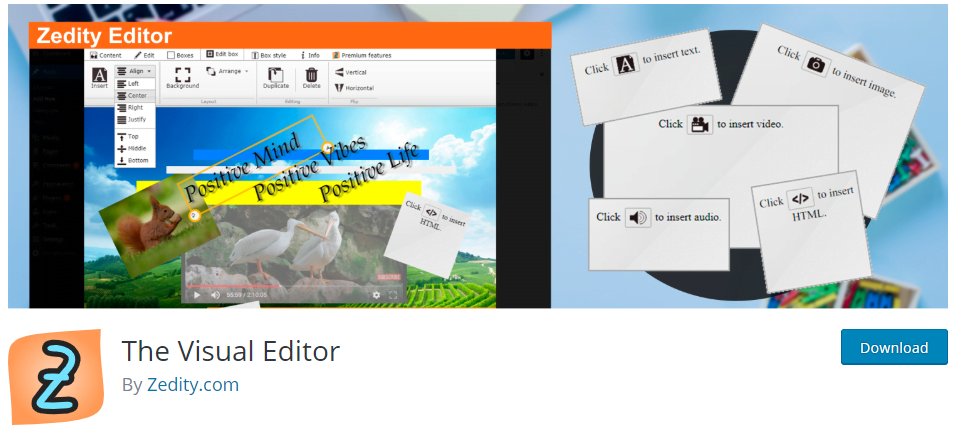 One of the best free page builders with the WYSIWYG approach, Zedity is really killing it with its versatile modules ranging from simple to highly complex infographics that include videos, images, text, drawings, and more.
The good thing is that you don't have to do any coding; everything is based on drag and drop. People who don't have the funds to get things designed for their website content should definitely try out this one. Have a look at some of its features below:
Easy to use with drag-and-drop functionality
Can be used with both the Classic Editor and Gutenberg editor
Available in many languages
Known for its visually appealing graphics
Excellent support
Conclusion
So that concludes the list of best free page builders, but you need to keep in mind that not all of them will be perfect for you.
You need to first see what your unique website creation needs are, what type of pages are you trying to build, and what type of visuals you want to use, and then proceed with the page builder that matches your needs. Elementor is one of the popular page builders that offers both free and pro versions.