I may earn commission if you use my affilaite links to purchase products: More details.
Wondering how to start a blog in India? It may seem like a complicated process at first, but we will simplify it in this guide. We will go through all the steps you need to take to start a blog in 2022 in India. Blogging is an excellent way to build authority in your niche, earn passive income, and engage with your customers. Here is an overview of the steps involved.
Step-by-step guide to Start a Blog in India
Why start a blog
Before we get started it is important to first understand why you should start a blog in India. India is one of the largest countries in the world with an ever-growing population. It is becoming a technological hub with internet penetration increasing there is an opportunity to grow your online business.
Blogging has several benefits for your business. Here are a few main ones.
Blogging is a great source of income. There are several ways in which you can monetize your blog and earn money. Sometimes you can automate the process and earn passive income.
It's an efficient and cost-effective method of getting your message across regularly. Blogging does not require a huge investment of money, it will usually require time more than money.
Blogging helps you engage with your customers. Usually, blogs will have a comments section where visitors can voice their opinions. They can ask questions, provide feedback, and comments on the blog. This two-way conversation is an excellent way to build social proof. It can easily help increase your conversions.
Blogs can help increase traffic to your website. Blogs are loved by search engines, they are often rewarded with higher rankings, which ultimately leads to more traffic.
Blogs are a great way to increase your social reach. If your content is engaging and compelling, it will result in it being shared by visitors on social media. This will increase your social reach and provide valuable social signals to your website. As your content gets shared it reaches a wider audience ultimately resulting in more traffic.
How much does it cost to start a blog in India
Well, it depends on what type of blog you want to start. If you want to start a blog just as a hobby, then you can create it for free using sites like Medium.com and WordPress.com
But if you're more interested to start a professional blog to make a profit, then it's possible to create a quality blog with as little as 700 rupees per month.
A domain name usually costs around 600-700 rupees per year and good hosting server costs around 6000 rupees for the first year.
What's the Difference between a free blog and a self-hosted blog
Free blogging platform like Medium, Wix, Blogger, and WordPress.com (WordPress.org is different) is only suitable for hobby bloggers; because they have limitations and terms on their platforms. You have to follow their T&C and don't have complete control over it.
Whereas, self-hosted open-source platforms like WordPress (WordPress.org) allow you to install their software and build your own blog/website without constraints. To start a self-hosted blog, you only need a domain name and a web server.
Choosing a niche for your blog
This is the first and the most important step of starting a blog. The niche you choose can make or break your blogging journey. Most bloggers will quit within six months of starting a blog because they chose the wrong niche.
A niche is simply a topic that your blog will revolve around. For example, you could start a blog about parenting, cars, technology, etc But how do you find out which is the right niche? Here are 3 steps to choose a great niche for your blog.
Make sure you are passionate about the topic. Otherwise, how will you stay motivated to continue blogging? If you are not interested in the topic, it is likely that you don't know much about it. It is therefore important to choose a niche that you are passionate and knowledgeable about.
Choose a profitable niche. Blogging can often be a good source of income. If you choose a profitable niche, you can easily start making passive income with your blog. You should make sure that people are interested in the topic you are starting your blog about. For example, would more people follow a tech blog or a psychology blog? The wider audience you have the better your chances of success.
Choose a micro-niche. Choosing a wide audience is great but it also comes with more competition. To avoid this, you can further narrow down your niche, for example instead of starting a parenting blog, you can start a parenting blog for toddlers or teens. Try to further narrow down your niche and build authority in that space.
Selecting a domain name
A domain is the URL of your website. For example, www.yoursite.com is what users will type into their browsers to be able to access your website.
It is important to choose a good domain name as it will usually be the first thing people see before accessing your website.
When choosing a domain name, you need to make sure it is relevant to your niche. For example, www.parenting.com would not work for a pet's blog.
Make sure your domain name is short and easy to remember without spelling mistakes; it's difficult to type complicated words and will often have spelling errors from users who type your domain name in their browser.
It is recommended to always try and get the .com version of your domain. .com domains have some SEO advantages over other domain extensions.
If you cannot find the .com version, then you can try to get the .in version. The .in version would work well if your blog is targeted at India. You can find some of the best places to buy a domain name here.
Choosing a web host
A Web hosting account is where all your blog's files, code, images, videos, etc will be stored. When a visitor visits your blog, the content will be accessed from the Webhosting server.
There are several web hosting providers with varying ranges of features. You can get a shared host, a virtual private server, or a dedicated server. The features offered by all hosts are different, for example, the disk space, CPU power, the PHP version, and the backup managers are all usually different. Choosing a web hosting provider can be a daunting task.
There are many companies like Hostgator, Hostinger, etc, but I recommend BlueHost for Web hosting because they're beginners friendly, easy to set up and they also offer a free domain name for the first year.
While purchasing the BlueHost hosting plan, make sure to select the server located in India if you want to target the Indian audience. For more information on purchasing the hosting plan, follow this easy tutorial.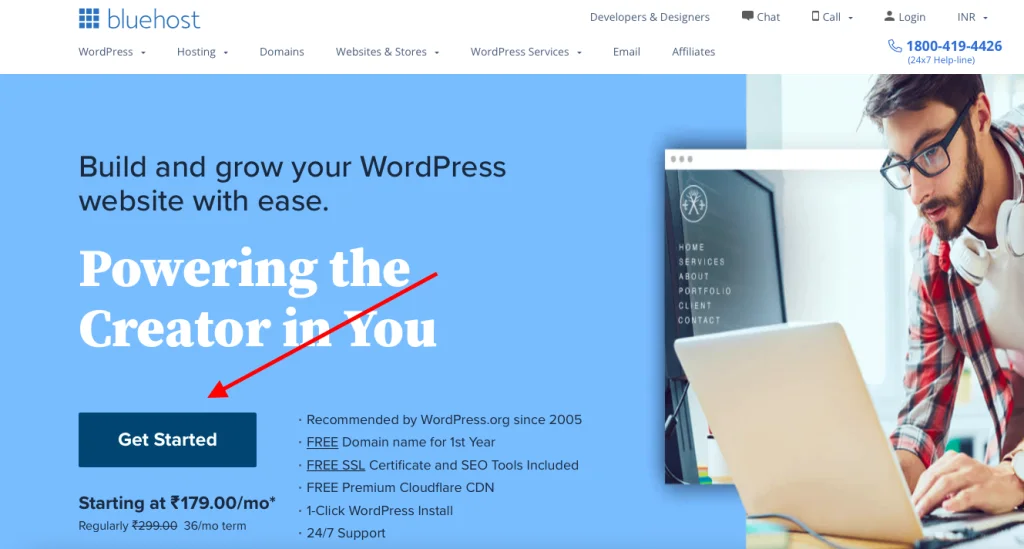 Once you land on the BlueHost homepage, click on Get Started.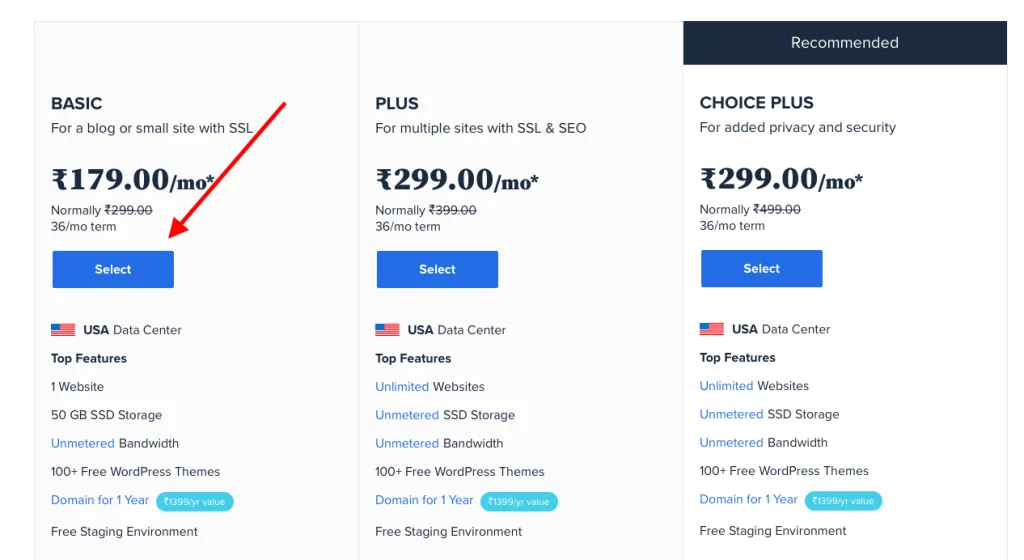 It will take you to another page, where you can select the plan you would like. If you just want to build a single website you can choose the Basic plan. But if you want to start multiple websites, you can choose the Plus plan. So go ahead and make your choice.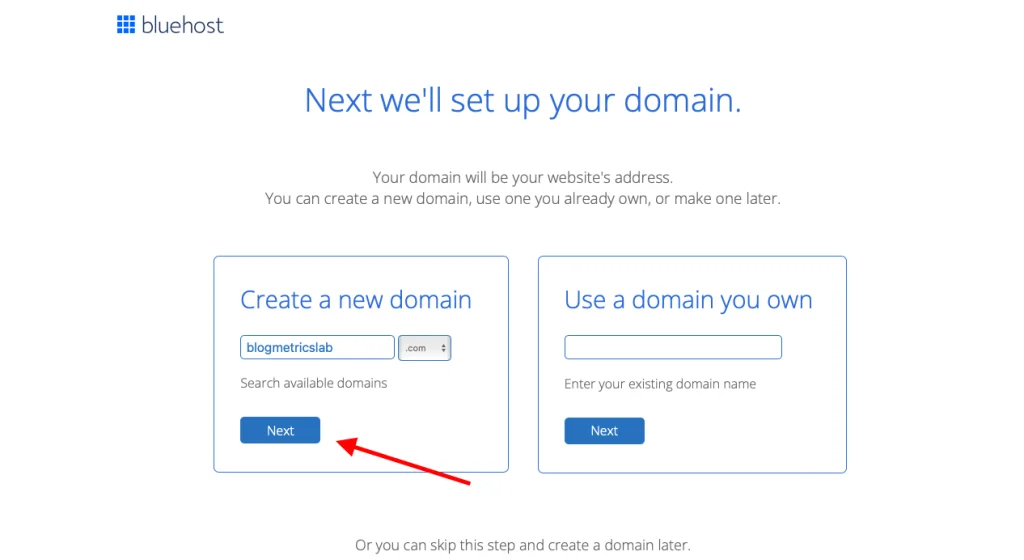 The next step is to pick your preferred domain name. The domain name should be unique and it's better to pick a name that is relatable to your niche.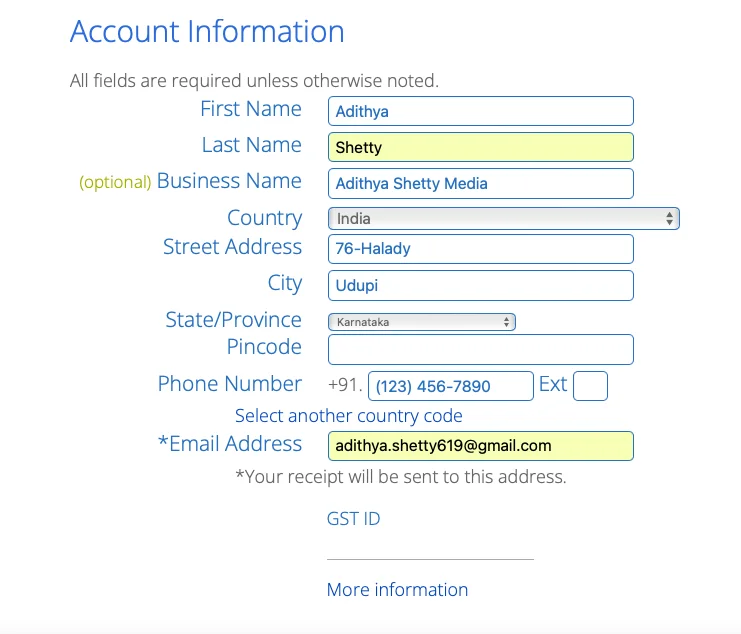 If the domain name is available, you will see a message congratulating you. Next, fill out your account information like name, and email.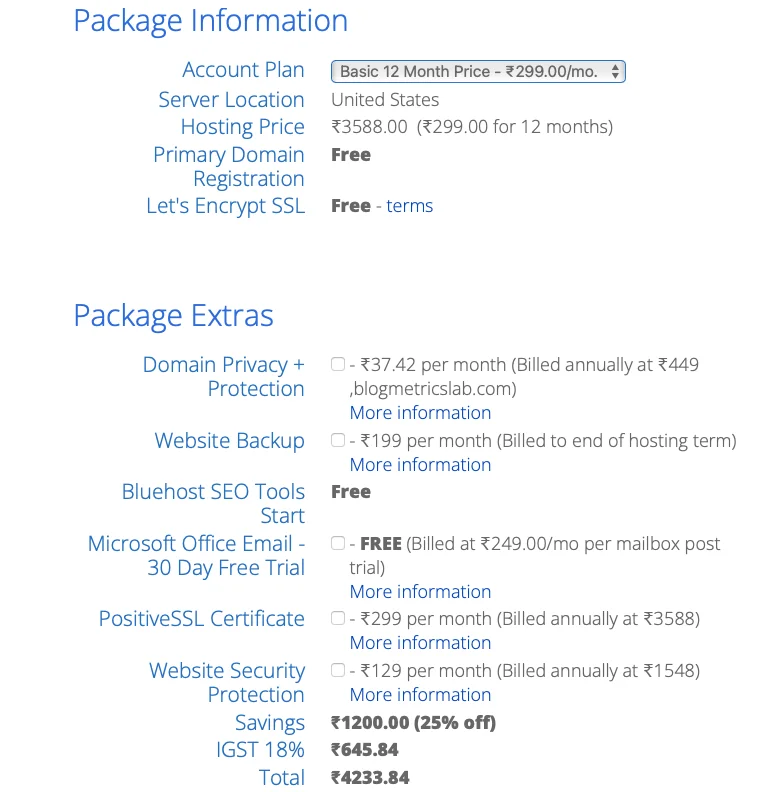 Next, uncheck all the unnecessary products Bluehost is recommending, they are not useful. Then agree to the terms and conditions and make a payment. You will receive an email containing cPanel (control panel) login information shortly after.
Setting up WordPress
Once you have a domain name and great hosting, you will now need to decide what platform or content management system (CMS) you want to use to build your blog. There are several blogging platforms such as Joomla, WordPress, Drupal, etc.
WordPress is the number one platform for blogging. It is user-friendly, beginner-friendly, and has thousands of themes and plugins. Meaning your creativity options are unlimited.
So now just follow this tutorial by BlueHost on How to install WordPress.
Once done you are now ready to use WordPress. You should also be able to visit your website. Usually, it will look similar to this.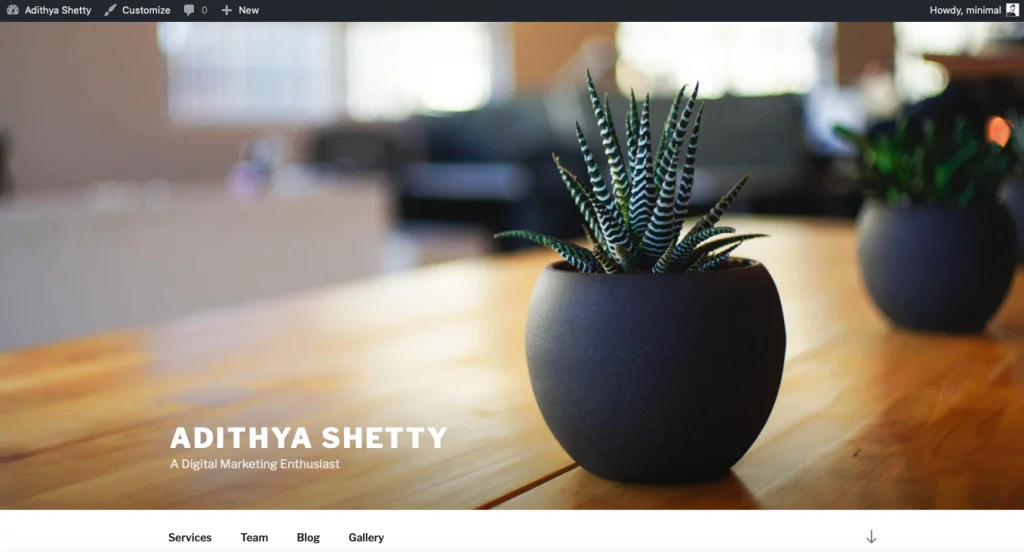 This is the Twenty Seventeen theme that is usually included in the default WP installation. We can now move to the next step which is to choose a theme.
Choosing and Installing a WordPress theme
The overall look and feel of your WordPress website are controlled by your theme. As you can see above the default theme has a basic design. It does not have many customization options. You will need to choose a better theme for your blog. Here are 4 things you need to consider when choosing a theme.
Purpose of the theme – Most WordPress themes are built for specific purposes while some are multi-purpose. If you are looking to start a blog, make sure you choose a theme that is suitable for a blog. An eCommerce theme, for example, will not work for a blog.
Price – There are both free and paid themes available for WordPress. Free themes will often have limited features and sometimes are slow to be updated by their developers. It is better to choose a paid theme. Most paid themes will cost under $50 and have robust features and customization options.
Speed – Your web hosting will greatly affect the speed of your website, but your theme is another major factor that will affect the speed of your website. Make sure the theme is well-coded and optimized for speed. You can do speed tests on the demo of the theme to judge the speed.
Responsiveness – Most WordPress themes are responsive. In the unlikely event that you choose an unresponsive theme, you will end up hurting your user experience, especially for mobile users. Make sure when choosing a theme, you test it from different devices such as a tablet and mobile phone.
Explore Some WordPress Themes
The Astra theme is an awesome WordPress theme. It has a free version and a premium version available. It's multi-purpose and can be used for a blog. It's one of the fastest themes in the market. It's also responsive and has several other robust features.
To install a theme, in your WordPress dashboard under the appearance menu click on Themes.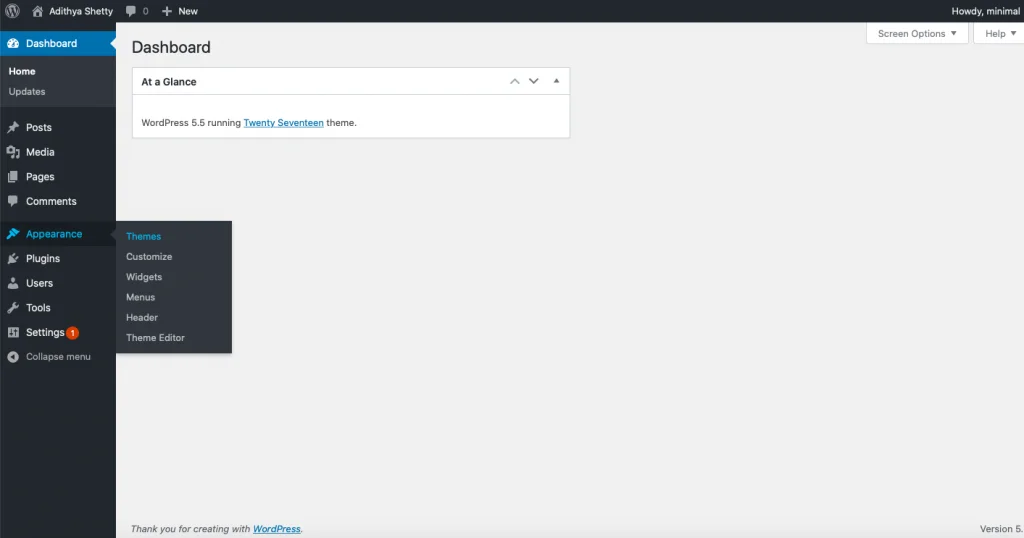 Then click on Add New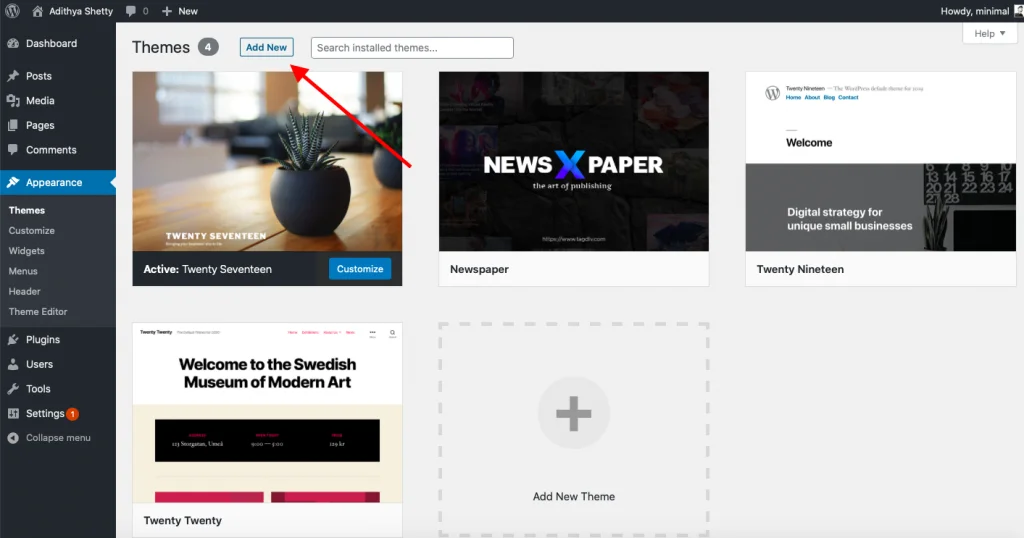 Search for the Astra theme and click on Instal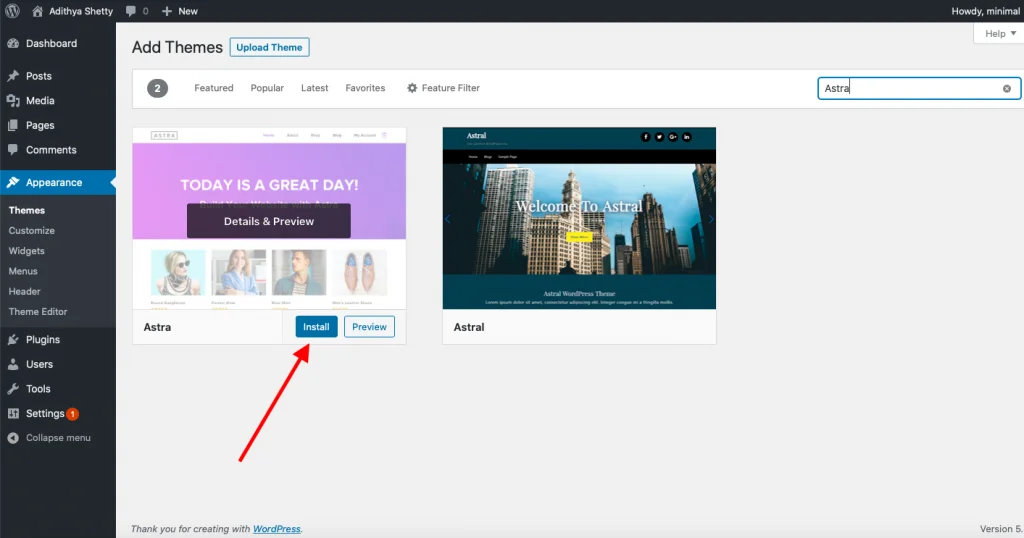 Once installed click on Activate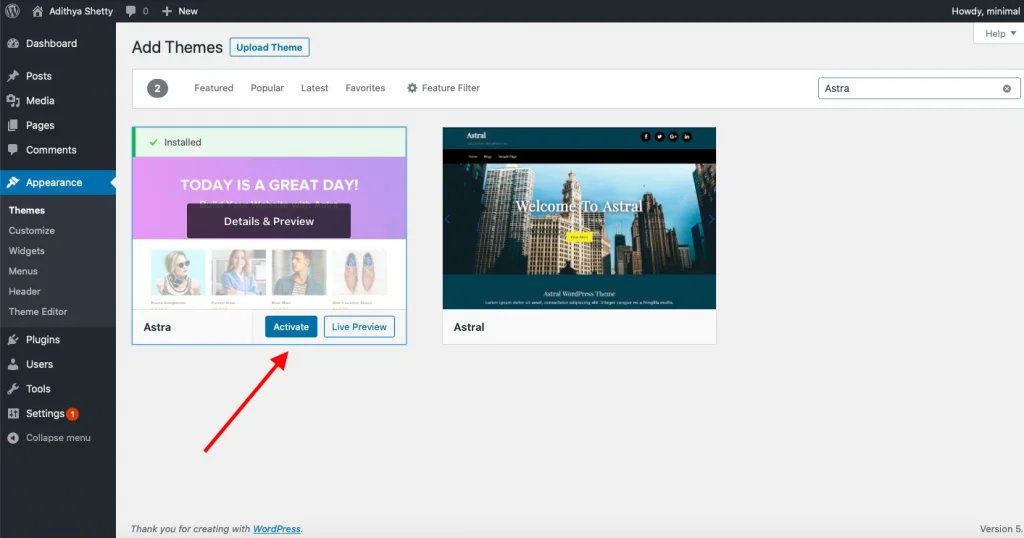 Once the theme is activated you will see a visible difference in the look and feel of your blog. You can now start customizing it further depending on the theme options your theme has.
Writing your first post
You can now go ahead and start writing the first post for your blog. After logging into your WordPress dashboard, under the posts menu click on Add New.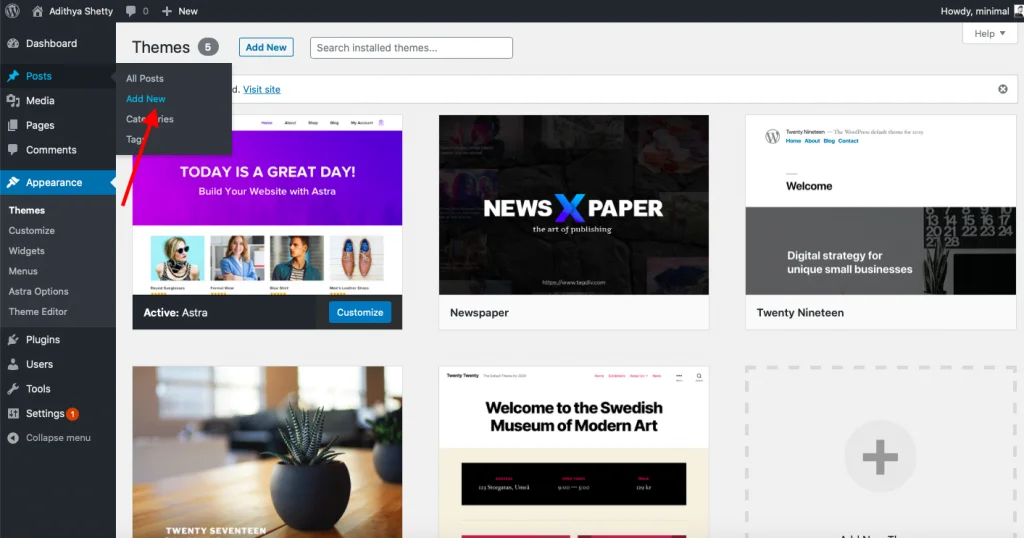 From the next screen, you can start writing your blog post. You will first need to add a title and then you can add the content for your post.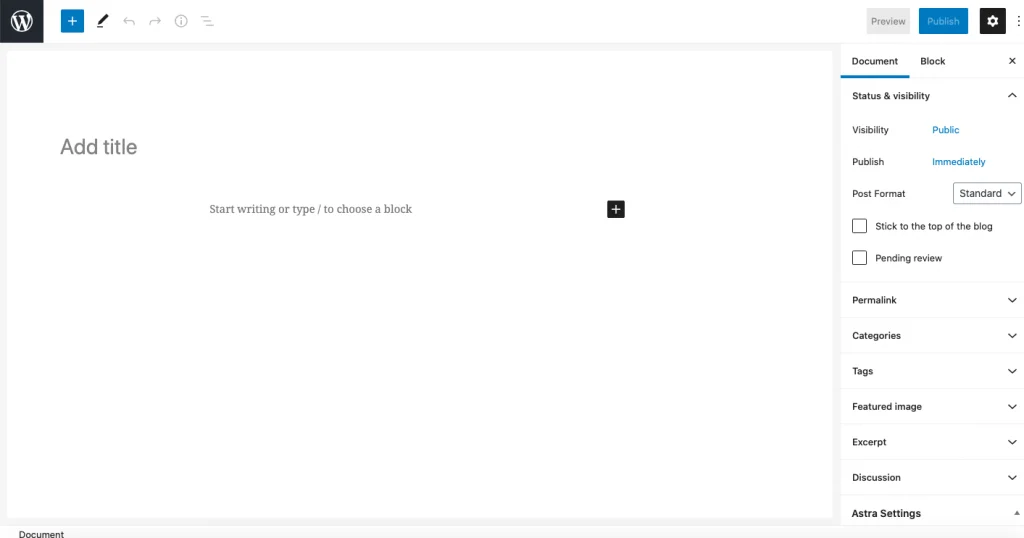 Here is an example. We added a title, some text, and an image.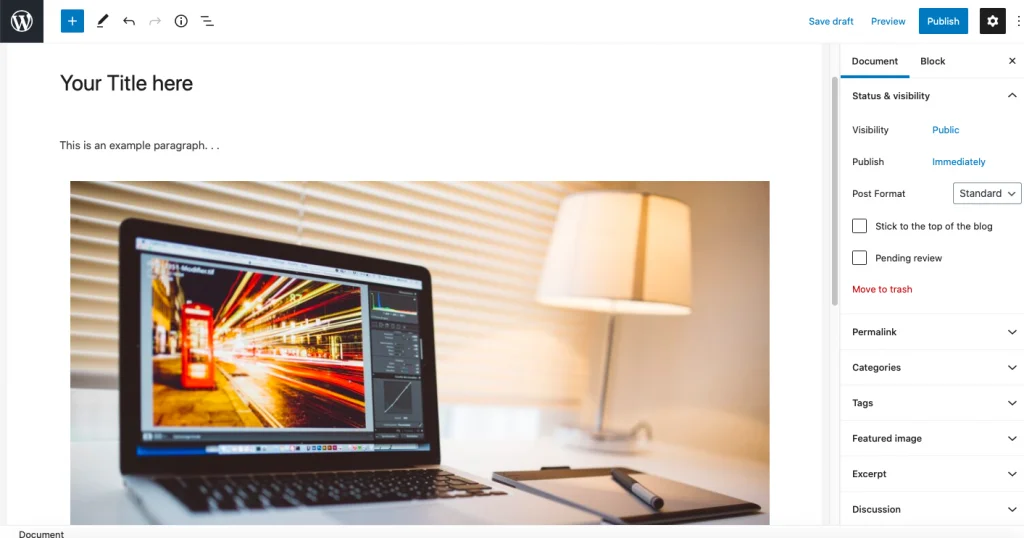 Once you are done adding your content for the post click on Publish and the post will then be live on your website.
Monetizing your blog
Blogs can be a significant source of revenue. Here are some ways in which you can monetize your blog.
Ads – This is the most common way to monetize blogs. You can sign up for ad networks such as Google Adsense, Media.net, Adversal, etc. You will need to strategically place the ads on your blog, so they don't annoy users. You can also sell banner ads locally or sponsored ads on certain pages.
Affiliate Marketing – You can promote products or services on your blog and if you get sales, you get paid a commission. Usually, this will be a fixed amount per sale or a percentage. There are several affiliate networks that you can sign up for such as Click bank and Max bounty
Selling your products or services – You can use your blog to promote your products or services to make money. Blogs can help drive significant organic traffic and you can leverage this to promote your own products or services.
There are many other methods of monetizing your blog, but these are the 3 main ones.
Conclusion
That's it for this article. Now you know how to choose a niche, domain name, hosting, and theme for your blog. That is all you need to get started. Of course, there can be several other steps that you might need to take for example installing plugins for extra functionality. But these will largely depend on your requirements.
By following the steps outlined above you should easily be able to get started with a blog.
Is it too technical for you? We're here to help; check out our service page and contact us to get started with your project.