I may earn commission if you use my affilaite links to purchase products: More details.
As you're probably aware, AppSumo is a deals website that's known to run Life-time-deals (LTDs) for software and digital products.
Founded in 2010, AppSumo has helped its customers to save over $500M with their deals. It also assisted in launching over a thousand Startups.
AppSumo ties up with the founders of SaaS and digital product creators and offers once-in-a-lifetime deals. The lifetime deal can be quite valuable in saving your money.
AppSumo is one of the popular daily deals marketplace sites that offers software and products with lucrative pricing.
AppSumo is a popular daily deals marketplace that offers software and products with lucrative pricing.
A fascinating thing about the AppSumo lifetime deals marketplace is that once you purchase a particular product through it, you never have to pay ever again, and you get lifetime access to that software.
If you're looking for a life-time-deal for this month, then you're at the right place. Today, I'm going to share some of the best deals for December.
AppSumo Lifetime Deals for April 2023
| S.N | Name | Category | Lifetime Deal | Link |
| --- | --- | --- | --- | --- |
| 1 | Depositphotos | Stock Photos | $39 | |
| 2 | Creasquare | Social Media | $39 | |
| 3 | NeuronWriter | Content Marketing | $69 | |
| 4 | GoBrunch | Media Tools | $79 | |
| 5 | Brain Pod AI Writer | Content Marketing | $39 | |
| 6 | Publitio | Media Management | $79 | |
| 7 | BannerBoo | Marketing & Sales | $49 | |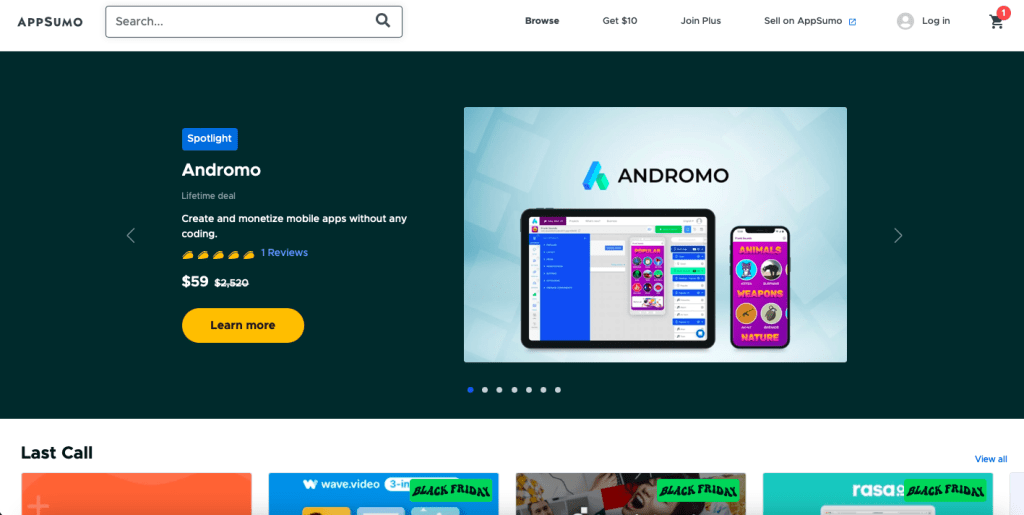 Older Deals (some might still be active)
With Trustbucket, you can display customer reviews from many sources on your website. As a result, you will be able to gain more trust from your customers. Embedding Trustbucket widgets on your website is quite straightforward. Build trust with visitors with Trustbucket and be confident in your website's design.
Original Price: $12/ month
AppSumo Price: $69-lifetime access
You can create branded landing pages for interviewing one or more guests using Rumble Studio. It allows you to record interviews and create content from a distance. Additionally, you will be able to send as many audio responses as you like, edit podcasts, as well as export audio in high-quality
Original Price: $499/month (advance package)
AppSumo Price: $59-lifetime plan
You can book and manage appointments online with ACE Meetings while earning reward coins. You can streamline scheduling with an intuitive setup page. You can set up your availability preferences with a few clicks, such as adding buffers between calls and selecting multiple durations.
Original Price: pro $14/month
AppSumo Price: $69
The Sticker Mule company specializes in printing customized stickers, labels, magnets, buttons, and branded packaging. You can easily and quickly promote your brand, business, or event with custom die-cut stickers. Stickers are made up of thick, durable vinyl that resists scratches, water, and sunlight.
Original Price: $19 for 50 stickers
AppSumo Price: $9 for 50 stickers
Angel Match offers a database of more than 90,000 angels and venture capitalists to raise your seed capital. It is not only time-consuming and tedious to search for investors but also difficult to determine which investors are likely to be interested in your project and how to contact them directly. With Angel Match, you can find angel investors and venture capitalists all in one place, saving you hundreds of hours.
Original Price: $36/month (pro package)
AppSumo Price: $69 for lifetime access
You can use Robinize to research, write, and optimize your content for SEO. Using the power of AI, this tool will generate a report based on the phrase you want to rank for in Google. It also offers all the tips and tweaks necessary to reach the top.
Original Price: $49/month
AppSumo Price: $69-lifetime deal
The Cheat Layer exposes a powerful GPT-3 scripting layer to automate business processes and save time. You can create a local Zapier with unlimited tasks that run in the background using Extension Webhooks and APIs.
Original Price: $23/month
AppSumo Price: $99-lifetime deal
EventIn is a time-saving tool for managing events. Eventin is a plug-in that allows you to organize, manage, and run event countdowns on your website. With an intuitive drag-and-drop builder, you can also create dedicated event websites
Original Price: $139/month (premium)
AppSumo Price: $ 59-lifetime deal
With the help of artificial intelligence (AI), Lebesgue can help Shopify stores of all sizes boost their returns on investments by following industry best practices. It also provides actionable insights on where to focus their marketing efforts.
Original Price: $79/month
AppSumo Price: $69-lifetime access for one shop
You can analyze your website's SEO elements with Serpwizz. Using a hundred website data points, it measures the performance of your website and provides real-time recommendations. So that you can easily improve your digital footprint and search engine ranking results. Serpwizz is the tool for any webmaster or digital agency who wants to improve a client's or their own site.
Original Price: $99/month
AppSumo Price: $69-lifetime deal
Final Thoughts
If you aim to monitor your expenses efficiently, ApppSumo is your place this December 2022. So what are you waiting for? Get your hands on these amazing deals with the most amazing pricing before it's too late.