I may earn money if you use my affilaite links to purchase products: More details.
A whopping budget was never on your bucket list when you initiated your PPC campaign.
Despite deciding on your key factors of success, which were effectively the niche that you wanted to operate in, and the competition scene prevailing in your immediate business vertical, you are (probably) still grappling to reach the figures that you wanted to achieve.
So, what went wrong? Did you refrain from using the right platform for enabling a great launch? Or did you fail to harness the many advantages of Google AdWords?
Here's a closer look at some effective yet simple ways of getting a firmer hold on your PPC campaign.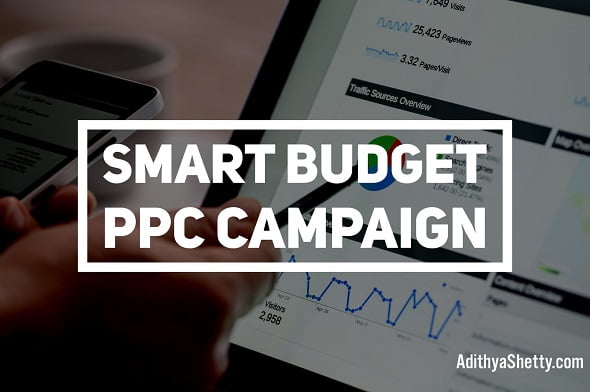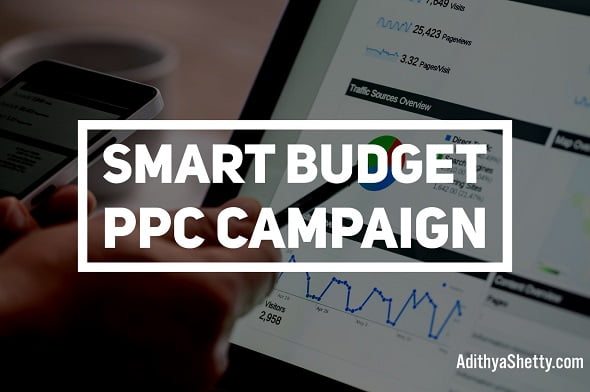 PPC Campaign at Lower Budget
Targeting of proper keywords
Which are the right keywords that you should be targeting to increase your visibility in the eyes of your target audience?
As per experienced search advertising professionals, most PPC campaigns that start with a bang usually end in a whimper because of the failure to use the correct keywords in their marketing strategies. Merely starting off a campaign with deep keyword research is not enough.
To keep things moving in the right direction, it is essential to keep reviewing the keyword research metrics consistently and in greater depth.
As irreplaceable damages can be in the offing for PPC campaigners with a small budget, it becomes essential to review them as frequently as possible.
All missed keywords in the keyword research done earlier need to be accounted for and rectified in good time.
Assess the changes that have been incorporated ever since you completed your last keyword research and act accordingly.
Track the products that you are dealing in; do they change over time?
Keep reviewing the strategies in use by your competitors to incorporate timely changes.
All in all, you need to have a powerful and effective keyword research strategy to bank on. You may want to find relevant, new and highly converting keywords to get to your marketing goals with ease.
Keep an eye on other marketers
Another smart way of unveiling the best keyword research metrics for your business is by unveiling newer and more impactful strategic keywords. You can do so by watching your rival advertising firms and other campaigners closely.
Most PPC campaigns in your field of business would be en-cashing on the keywords that are getting in higher traffic. It is a good idea to observe the keywords that they are placing their stakes on. This will enable you to understand the overall market in a better and more comprehensive manner; thereby leading to the best results for your business.
A word of caution. In case you are planning to use the words that are being put into use by your competitors, you need to assess their competence for your business before taking the plunge. Incorporating the same keywords may or may not prove to be an ideal solution for your PPC campaign.
Trigger off your campaign at a low budget
When you have a not-so-deep pocket for your campaign, or if you are struggling to keep up with your over-expanding budget, it would be better to invest your money in the keywords repository that you are absolutely sure about.  It is essential to have complete understanding of your targeted audience and choose the keywords that would enable their search for your products.
The keywords so selected should be capable of aligning with the purchase intent of your perspective and existing clients as well. In most cases, these keywords would be the ones that have been collated after conducting in-depth research of your requirements.
Never invest in the keywords that are irrelevant for your products and services as they will not take you anywhere.
Widen your overall audience reach
Once you have identified the right keywords and created your ad groups, the next step would be to keep expanding your reach to include more and more people into different ad groups.
Once you have succeeded in creating the right ads and ad groups, search engines will look for the same and other close variants of your chosen keywords to render the right impact.
Negative search terms are useful too
If you happen to be dependent on broad match or phrase match keywords, you may have quite a few meaningless and less relevant keywords for your marketing purposes.
In order to avoid investing in keywords that may not be useful for your business, you need to scan all search terms reports and sort out the useless ones to be used as negative keywords.
How to push your PPC campaign skywards?
One of the most ideal means of adding volumes to your paid advertising strategy is by upping your Quality Score. The better the Score, the lesser amount you need to pay for your investments in AdWords.
If you consult the right agencies, you can get yourself some valuable and quick tips of keeping your Quality Score at the highest possible levels. For this, you have to make the most of the AdWords profit potential; which has been proven to be 'massive.' Professionals in the world of Google AdWords will help you set-up, implement, monitor and control your PPC campaign.
If Google finds your advertisements and means of convincing your target audience apt, you can add more value by enhancing your Quality Score.
Keeping less than twenty keywords in a single group is a good way of going about the act. Additionally, you need to ensure that the landing pages created for the disbursement of your offers are completely relevant to the keywords and keyword groups chosen by you.
Final Words
The strategies planned by you for your PPC campaign need not be restricted to the guidelines and tips shared above. You may want to delve deeper into your research to gain additional knowledge about making your dollars work harder and better.
It is equally important to note that your investments in Google AdWords may end up being an unnecessary and expensive proposition if you neglect the important aspects of running your PPC campaigns. So, work out your ROI and choose the right steps to attaining it. Click here for further details.