I may earn money if you use my affilaite links to buy products: More details
There are tons of online screen recorder tools out there and finding the one that fit your needs can be pretty cumbersome.
This is mainly because there is not much information available about which online screen recorder is the best, making it arduous for especially newbies to find the most suitable one with useful features.
Therefore, this list of 7 best online screen recorder tools and software will help you find the one that fits your needs:
Best Online Screen Recorder Software and Tools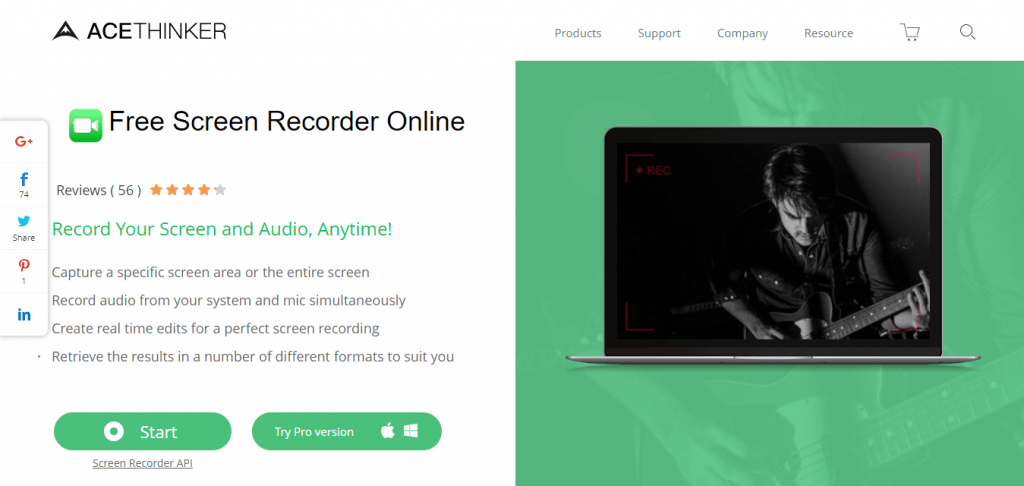 When it comes to online screen recorder tools, the name of AceThinker always comes up.
The intuitive design and quality video output of this one never disappoint its users. You can use it on Mac, iPhone, iPad and Windows.
The best part of using this free online screen recorder is that it lets you record videos in up to 1080p quality with a webcam. There are no time limits and no watermarks as well. Just install it and start recording.
Some of the features are:
Include or exclude system sounds
Record your video and audio with webcam
Edit recorded videos with tons of features like trim, crop, video speed, adjust brightness and so on
Insert subtitles in *.ass, *.srt and *.saas formats
Export in formats like MP4, AVI, WMV, MKV, MOV, FLV, MPEG, VOB and ASF or create Gifs
Upload to different clouds or publish on video platforms like YouTube
---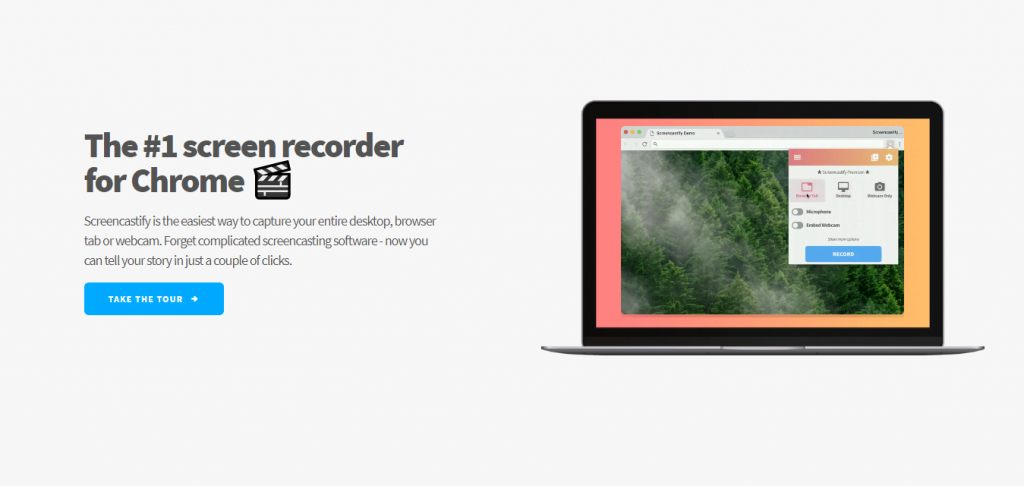 Simple and easy to use online screen recorder that does not depend on any external software at all because the recording is done locally.
It can supercharge the way you communicate by enabling you to record, edit and share HD videos in a few minutes.
All you need to do is to install its extension into Chrome, and you can record the activities in your browser tab, entire desktop or also use your webcam.
Some of its features are:
Record offline and only use the internet to upload
No need for a bulky software download
Embed your webcam and narrate with a microphone
Save directly to Google Drive
Publish to YouTube
Export important bit sized elements of your recording in GIF
---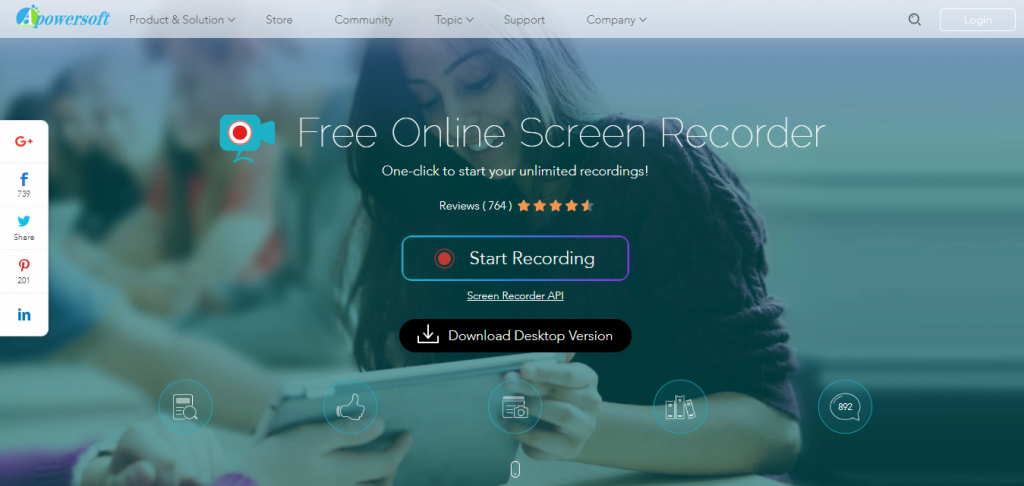 A completely free to use online screen recorder that comes with no time limits, watermarks, and paywalls.
Though it is installed as an extension and not as software, you will need to install a small launcher application to use it. But considering the limitless use for free, installing one launcher should not be a problem.
It also allows you to annotate the screen when you are recording which is quite useful for people making video tutorials. Some of its features are:
Record activities ranging from streaming, self-demonstrating to live chat and so on
Export videos to several formats including MP4, WMV, AVI, FLV, MPEG, VOB, ASF and GIF
Record a specific area, whole screen and also a webcam
Pair your recordings with sound from your computer or microphone
Record side-by-side webcam videos using chat services like Skype, GoToMeeting and more.
Save it in local drive or upload to cloud at no cost.
---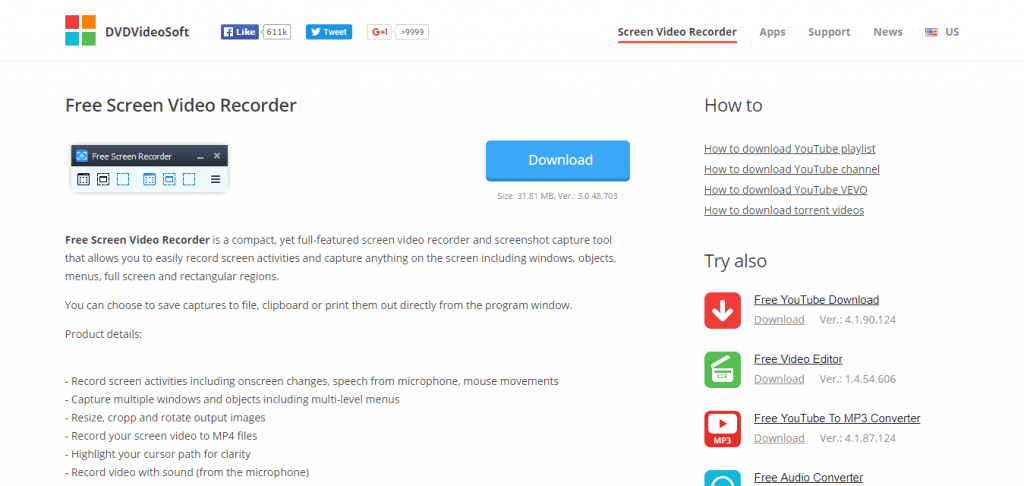 The screen recorder by DVDVideoSoft is a compact yet feature-packed screen video recorder allowing you to record anything on the screen including rectangular regions, window menus or simply the whole screen.
The simple interface and free availability of this one made it a popular screen recording software in a very short time. Some of its features are:
Combine video with your audio through a microphone
Save in GIF or MP4
Highlight cursor path for clarity
Capture multi-level menus and multiple windows
Simple interface and compact design
---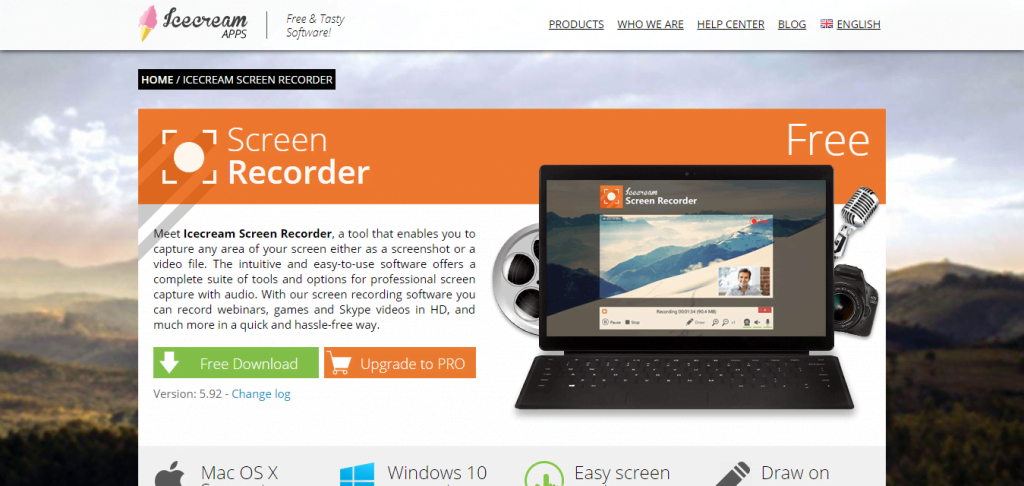 One of the best screen recorder that enables you to record any area of your computer's screen.
The possibilities of recording things with this software range from recording gameplays, webinars, to Skype videos and so on.
Its user-friendly interface coupled with its intuitive design makes it a perfect tool for both professional and personal users. Though it has many exciting features, the best part of using this one is that it enables you to convert your file into any format of your choice including GIF.
Some more features are:
Select the area you want to record
Drawing panel
Access to all past recorded videos history
Add your own watermark
Record your webcam video along with your screen recording
Zoom in while recording
Graphically display steps in your video
---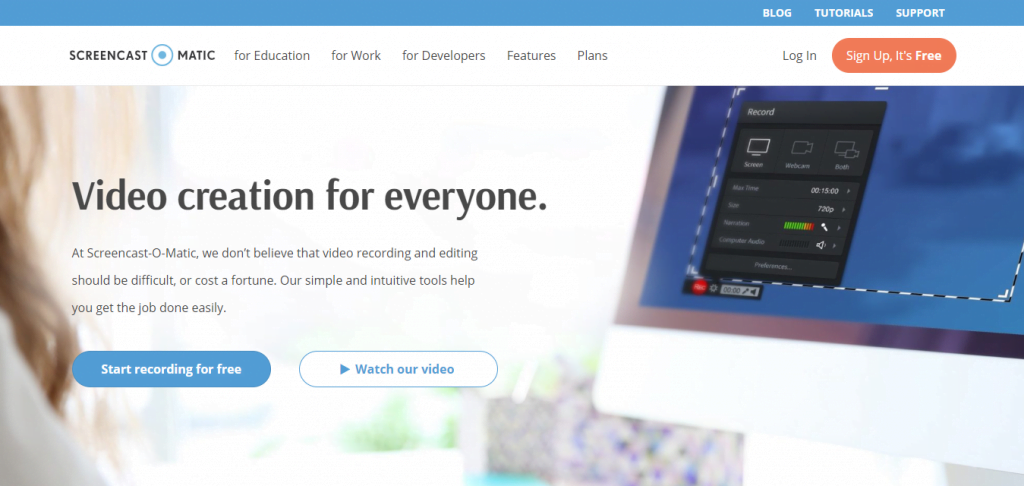 One of the most popular online screen recorder tools that help users record movies, Skype chats and gameplay, online meetings or videos from online streaming sites like Facebook, TED, YouTube, Dailymotion and so on.
It also enables the user to record the whole screen along with the webcam and provide narration by a microphone or use system sounds.
Though the free online version allows you to only record 15 minutes long video, the tons of features and sleek design are worth purchasing this one.
Some features are:
Save video in MP4, AVI or FLV format.
Upload the video to Screencast-O-Matic account or publish on YouTube
Select your own recording area
Combine screen recording with webcam
Easily share videos on social media platforms
Sleek and intuitive design
---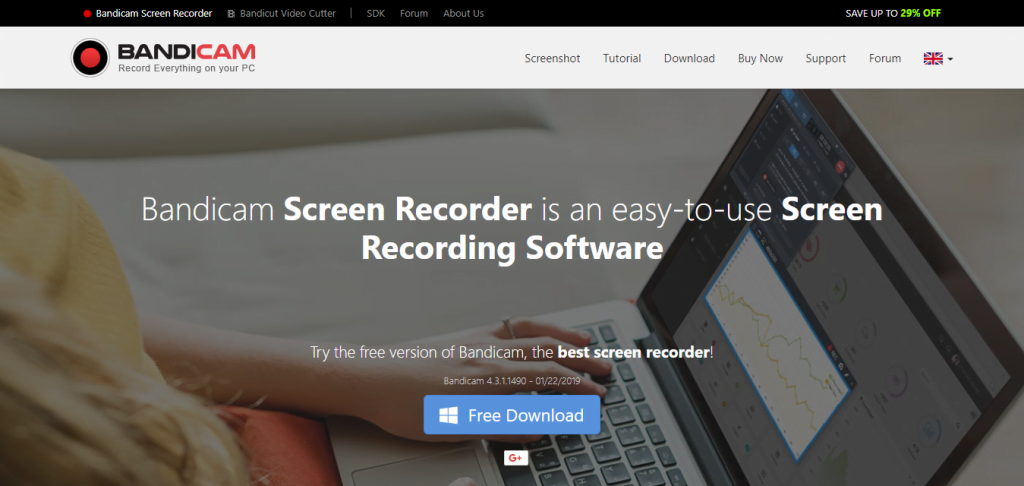 An easy to use online screen recorder that lets you capture any area of your screen so you can create pretty detailed videos with to the point explanations. You can record lectures, gameplays, webinars and Skype calls with ease.
It will help you record big videos with high compression ratio while keeping the quality of the video very close to the original work.
Due to its superior performance than many other online screen recorder tools, it is one of the favorite tools of many professional and personal users.
Some features are:
Select and record any area
Draw on screen in real time
Add a webcam overlay
Add your own voice
Add your own watermark
Add mouse click effects and different animations while recording
---
Over to you
So now that you know the best online screen recorder tools and software, you will not waste money on the wrong ones or have a hard time finding one that fit your needs.
Just make sure to dig a little deeper into the recorder you select from this list to be sure that you are getting a bang for your buck.