I may earn money if you use my affilaite links to purchase products: More details.
If you are associated with any kind of business, you would definitely acknowledge the significance of a contract document. Regardless of the nature or size of your business, you would often need to make contracts with customers, dealers, suppliers, partners, employees, etc.
The lack of efficient contract management can impact various aspects of your business, including operational and financial performance.
An effective contract management solution can be an invaluable tool to manage business relationships and derive the most out of agreement terms. Mentioned below are the key benefits of investing in a contract management solution.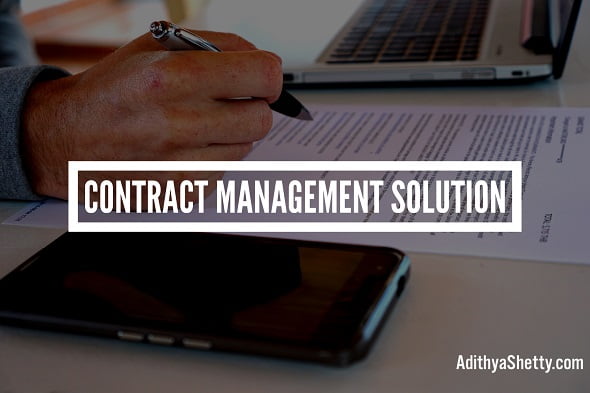 Access contracts easily
A contract management solution enables you to store contract documents and agreements in a central repository that can be easily accessed.
Whenever the need arises, you can simply download and review the contract documents without any delay or hassle. This lends you greater visibility as far as the contract records are concerned.
Maintain an organized database of contract records
With a contract management solution, you get the advantage of organizing your data in an orderly manner.
The tools of a contract management system provide searching and sorting functionalities.
Such functionalities help to locate your documents instantly, saving you the time and effort needed to carry out the task otherwise.
Retrieve essential data quickly
One important feature of a contract management solution is the searchable access to key data by the authorized people.
This reduces the need to flip through lengthy contracts to find out about any particular point. You can retrieve the relevant information in a quick and efficient manner.
Increase productivity
An online contract management solution results in automation and streamlining of the contract management processes. Apart from improving controls for optimized contract value, such a solution increases performance and quickens workflow cycles.
Further, you don't have to invest time on reworks and manually completed workflow activities that involve the use of old database technologies and spreadsheets.
At the same time, it helps to eliminate administrative errors and standardize the overall contract management procedures.
Keep track of vital dates
All businesses need to remain aware of vital dates in the contract lifecycle. A contract management solution makes this an effortless task through its automated reminder feature.
You can schedule notifications as per your requirement and make sure that important dates in a contract's lifespan are never missed due to human negligence.
Reduce risks
A contract management solution improves compliance by helping your business remain updated about the latest conditions of a contract. Being compliant helps you to mitigate risks regarding performance.
You can also identify compliance-related issues and adopt necessary steps if needed.
Get good return on investment
By opting for a contract management solution, you get the opportunity to optimise different factors related to your business.
These factors can include customer management, contract renewals, contract performance, etc. As the optimization increases, your revenue and cost savings also stand to increase.
In other words, it ensures faster and better return on investment (ROI).